Air to Water 2-stage High Temperature Heat Pump
Air to Water 2-stage High Temperature Heat Pump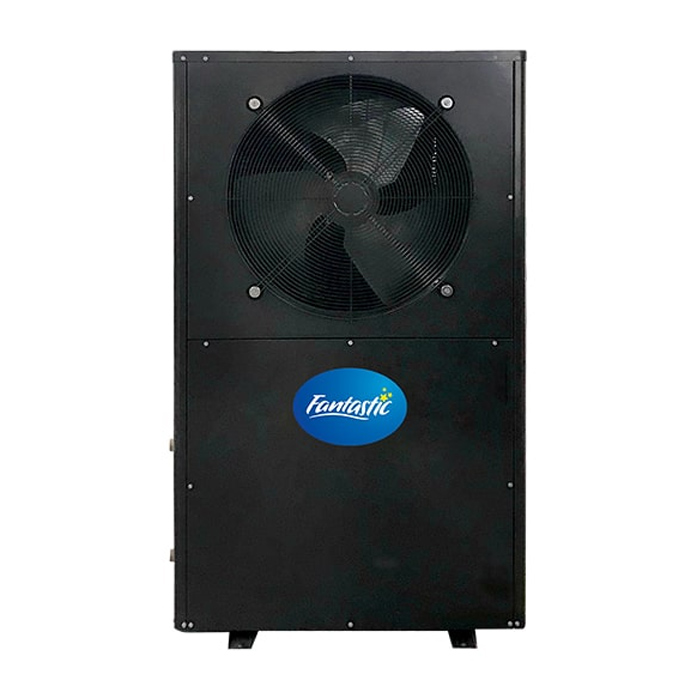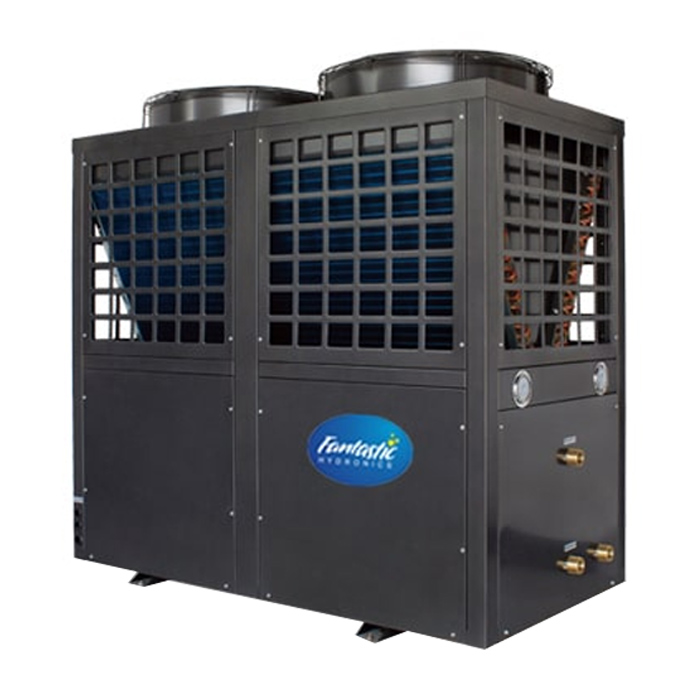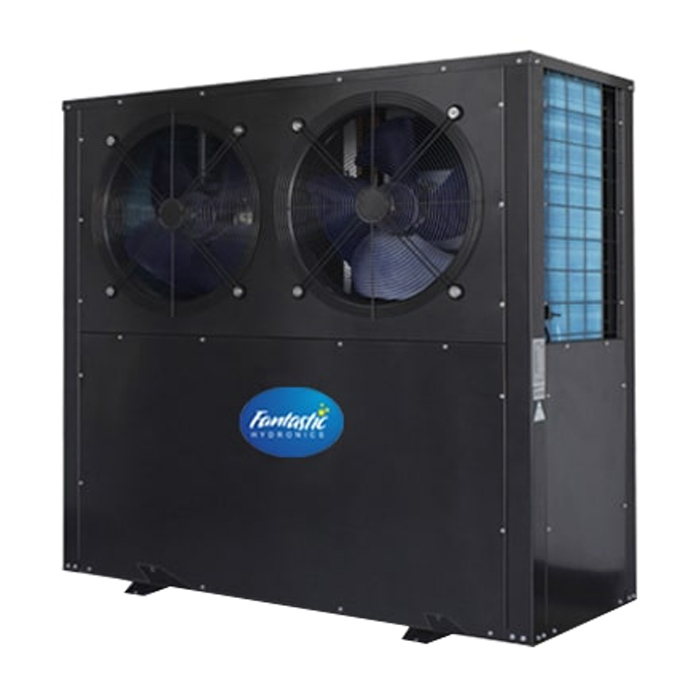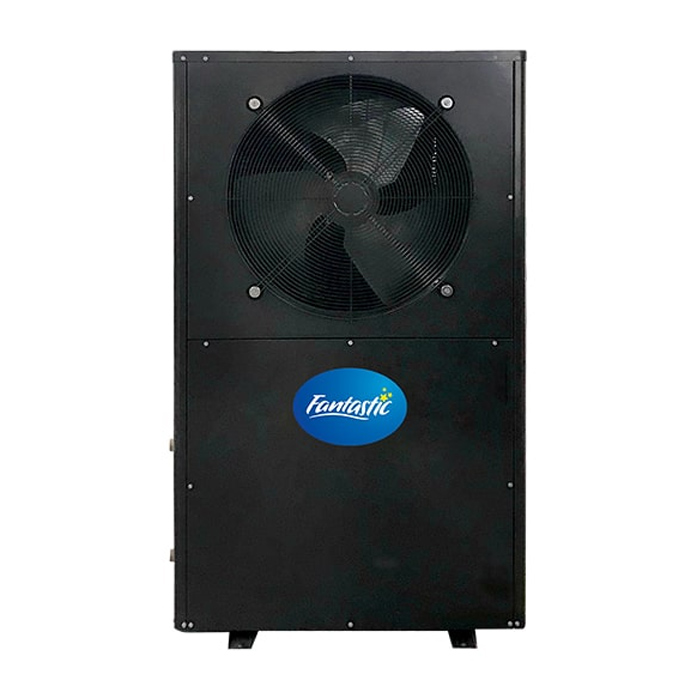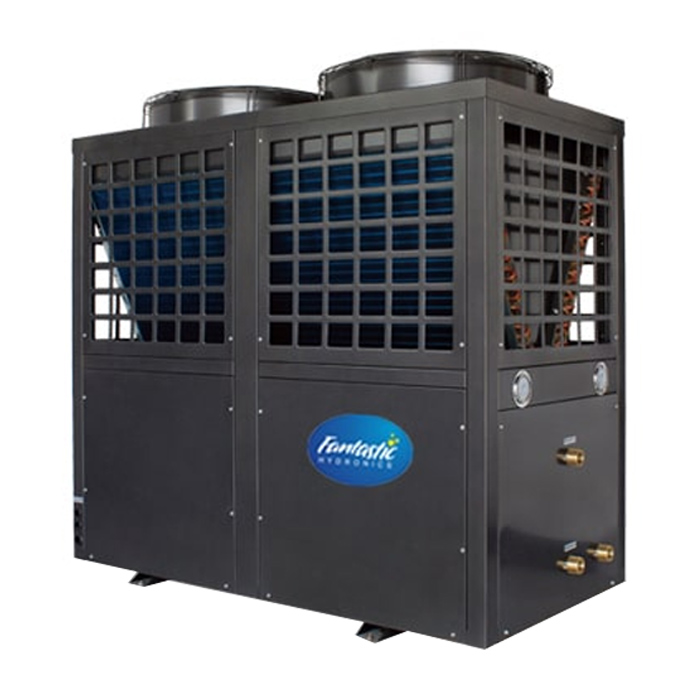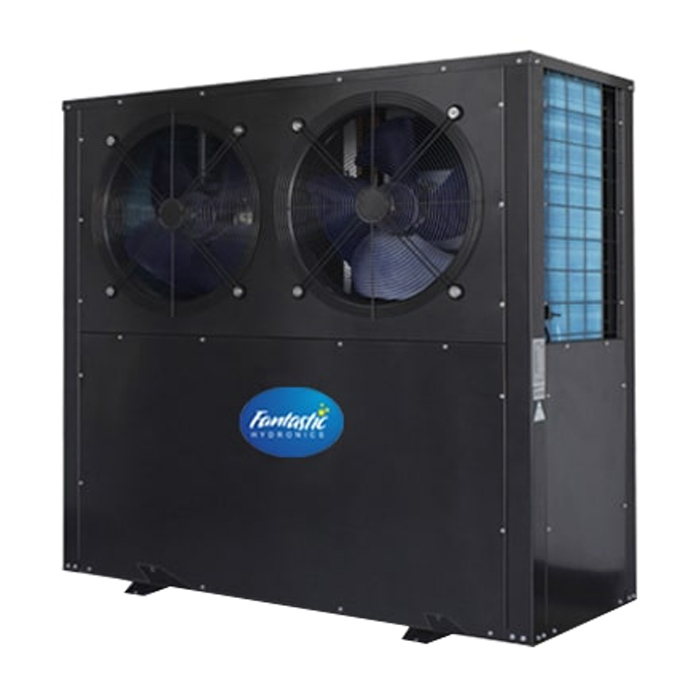 Main Features:
• R32 or R410a, R134a
• Monoblock or split type for option
• 2-stage heating system technology
• Can work under - 35C ambient
• Function: 80℃ Hot Water,House Heating / Domestic Hot Water, Water Disinfection
• High COP, save energy and safety
• High Performance technology under low ambient temperature
• Smart Defrost Technology
• Multi-Protection, Long Service Life
• High efficiency EEV control
• High Efficient FANTASTIC customize heat exchanger
• Special design for anti-freezing and anti-frosting in the bottom of air exchanger
Applications:
1. House heating, Old house with radiator and replacing old gas heater or electric heater.
2. Apartment, Vilas, Hotel.
3. Hospital or workshop special using.
4. Dairy farm, electric plating factory.
5. Food disinfection, drying, laundry, and so on.
Core Strengths
75℃ ~ 85 ℃ hot water - FANTASTIC air source 2-stage high-temperature heat pump is combining the R410A system + R134A refrigerant system. R410a system provide good working condition to R134a system and with FANTASTIC patent control logic, it can make 75℃ ~ 80 ℃ hot water.
Work under -35℃ambient - it's the best solution for a heat pump in cold area, our high temperature can provide stably enough heating capacity and high water temperature even if the outdoor temperature is -35℃.
Long life and high performance with good quality components - Using high efficient scroll compressor, patented high efficient shell and tube heat exchanger, plate heat exchanger, internally threaded copper pipe hydrophilic aluminum foil evaporator with 20% larger heat exchange area than traditional unit, large-diameter fan with large air volume, and low noise vertical air outlet design.
Save energy and save your money - Applying technical grade linear electronic expansion valve to control the refrigerant flow of both stages to ensure high efficient refrigerant flow adjustments under different ambient temperatures and water temperatures for stable and reliable operation. And at the same time, to eradicate the weakness of poor linear adjustment of the mechanical expansion valve and easy refrigerant leakage. Its COP is high and much energy saving (more than 70% power conservation) than other heating ways such as traditional electric boilers.
Super Quiet - FANTASTIC high water temperature heat pump using anti-vibration bottom design and owl fan blade design to provide a good environment and friendly neighborhood.
If you have been shopping for a new water hot water heat pump wholesaler, you know how expensive they can be. You don't have to be a engineer to figure out how much energy you will need and how many of those pumps you will have to own. That is why it is important to choose a reliable heat pump wholesaler that can help you get all your water heaters at a reasonable price. Energy efficient hot water heat pump wholesaler can save you money on your energy bill, but not every gas station in the country is selling them. You can make sure that your new pump will be working efficiently so that you will also save money on your energy bill.
It is common knowledge that natural gas and propane are the two most popular types of fuels used for heating systems. Those fuels are usually much more expensive than electricity because they are harder to come by. In fact, until the recent discoveries of the plentiful supply of gas and coal, it was much more difficult for you to find hot water heat pumps that were efficient. However, now that there are more options available, the price of a hot water hot water heat pump wholesaler is very competitive. Since the price of the fuel is becoming more expensive, it makes sense that people will want to find a way to save money. By choosing a water heat pump that is efficient, you can do just that.
There are two basic options that you have when shopping for a new pump. First, you can go with a brand name that is known for producing high quality pumps or you can go with a brand that may be less known but that produces good hot water heat pumps. By researching the different options that you have, you will be able to choose the one that will work best for you. When you decide which pump you want, you will want to do some research to find a good hot water heat pump wholesaler wholesaler so that you get only the best pump at the best price.
If you search on the internet, you will probably be overwhelmed by all the companies that are said to sell hot water heat pumps. Therefore, it is very important for you to narrow down your choices to just two or three companies that you feel are most reputable. Call each company and tell them the specifications that you are looking for, such as efficiency, cost, reliability, size, and fuel type. If you are shopping online, use a third party search engine to help you identify the companies in your area. The customer reviews will help you narrow down your search even further.
When you start looking for a water heater, the first thing that you should look at is the efficiency. You want to purchase the most efficient model that you can afford. If you have a budget constraint, then you should think about getting a used or a second-hand model. However, you should always think about getting a new hot water heater if your current one is faulty or not up to standards. Once you have chosen a brand and a model, you can look for the company that sells hot water heaters and get their contact information.
In order to get the best deal, you should also consider buying from a reputable company. It is best to choose one that offers warranties and money back guarantees. This way, if the hot water heat pump does not live up to the expectations, you can return it for a replacement. Since you will probably be shopping online, you should read some customer reviews before purchasing one. This will allow you to make the right decision.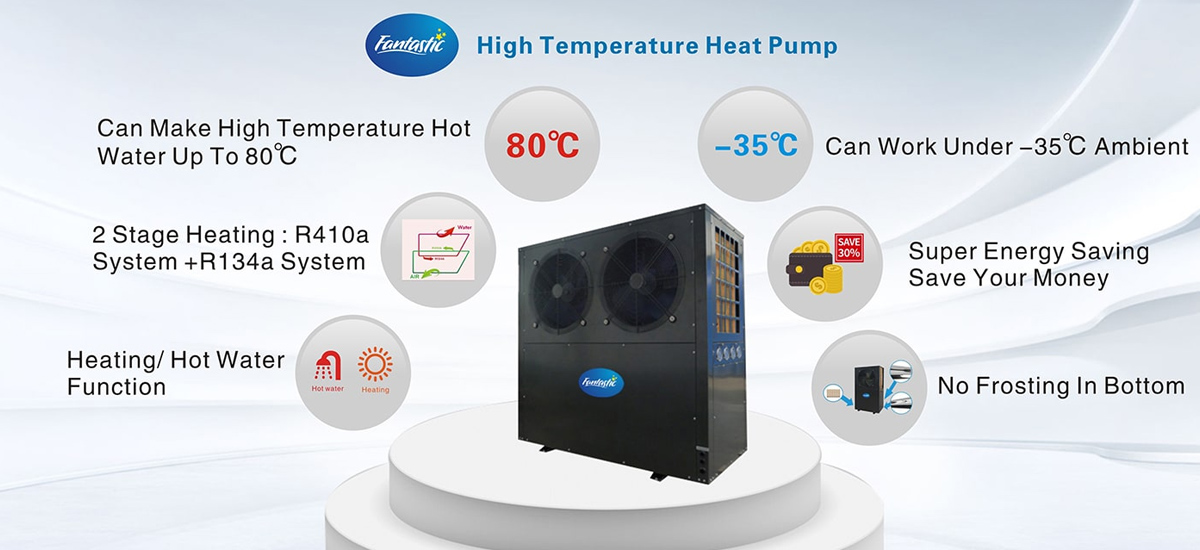 Stable 75~80℃ Hot Water
Thanks for FANTASTIC unique 2-stage heating technology (R410A system + R134a system), FANTASITC high temperature heat pump can make hot water up to 75~80℃. It's good and popular for the old house with radiators that need high temperature hot water to replace the old gas heater or electric heater. And it's also available for other industrial and agricultural uses.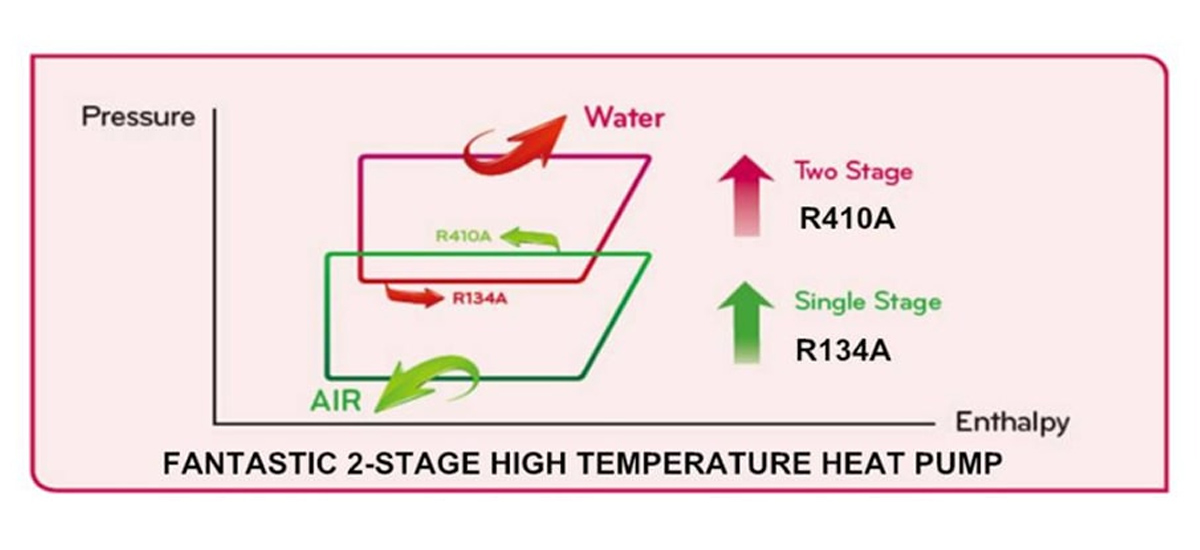 Safe and Stable Operation Under -35℃ Ambient Temperature
Thanks for the 2-stage system, FANTASTIC high temperature heat pump has a wide working ambient temperature range: -35℃~43℃, that make the unit available at any weather to meet the demands of summer cooling, winter heating and hot water throughout the year.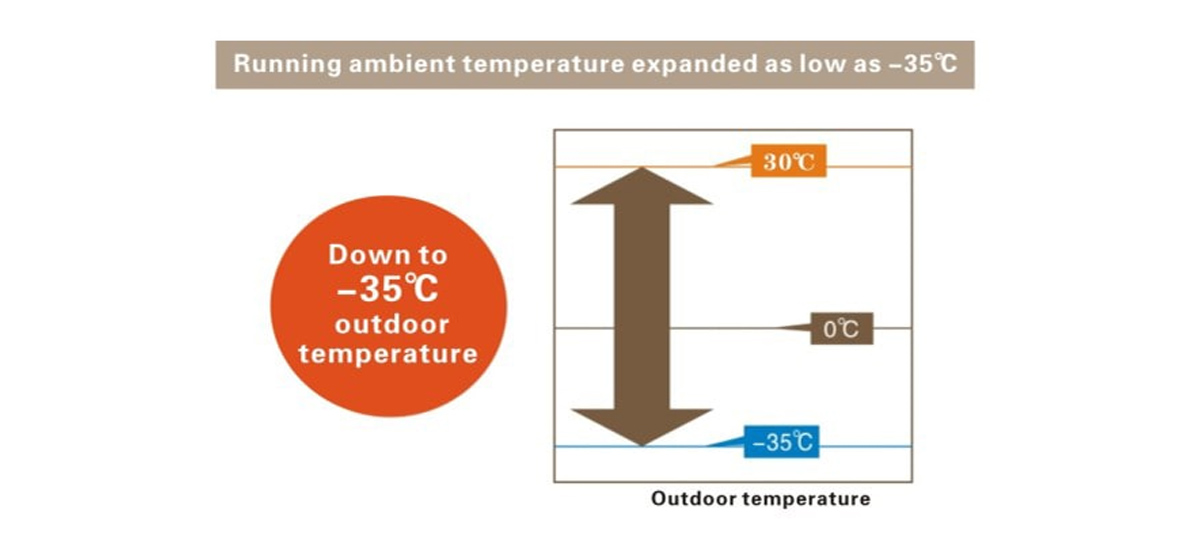 Smart Defrost Technology
Intelligent defrost technology to reduce the defrosting times and thus extend the unit heating time. Rapid defrost to shorten defrost time can help to recover supply water temperature quickly, improve the unit heating efficiency and maintain comfort.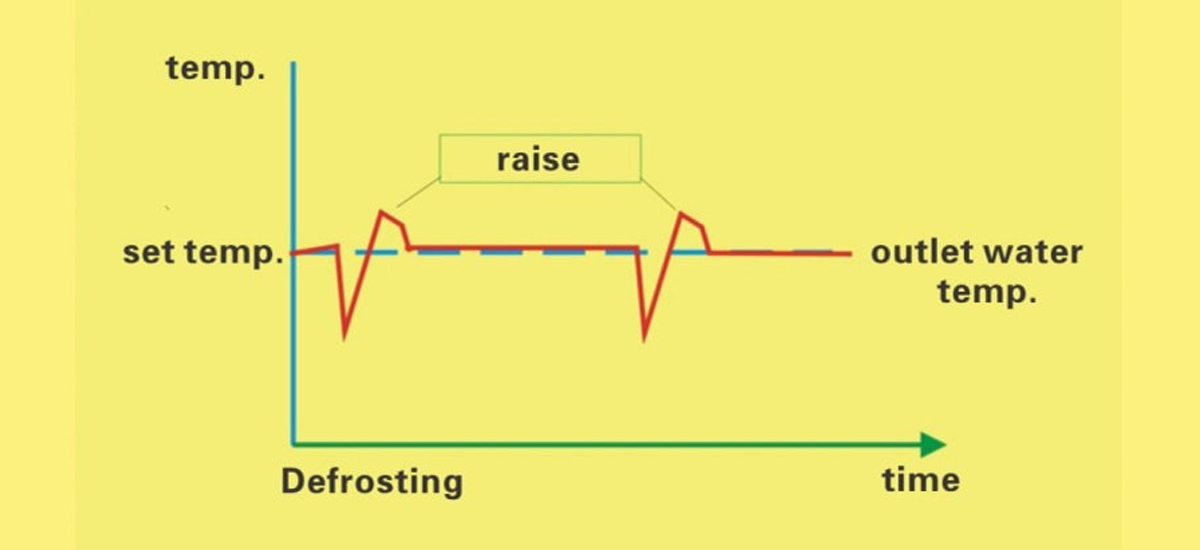 FANTASTIC Spiral Type High Efficient Heat Exchanger
FANTASTIC spiral type high efficient heat exchanger is with increased heat exchanger area to improve the heat transfer ability and evenly distribute over the surface of the copper, reducing water film, and improving efficiency.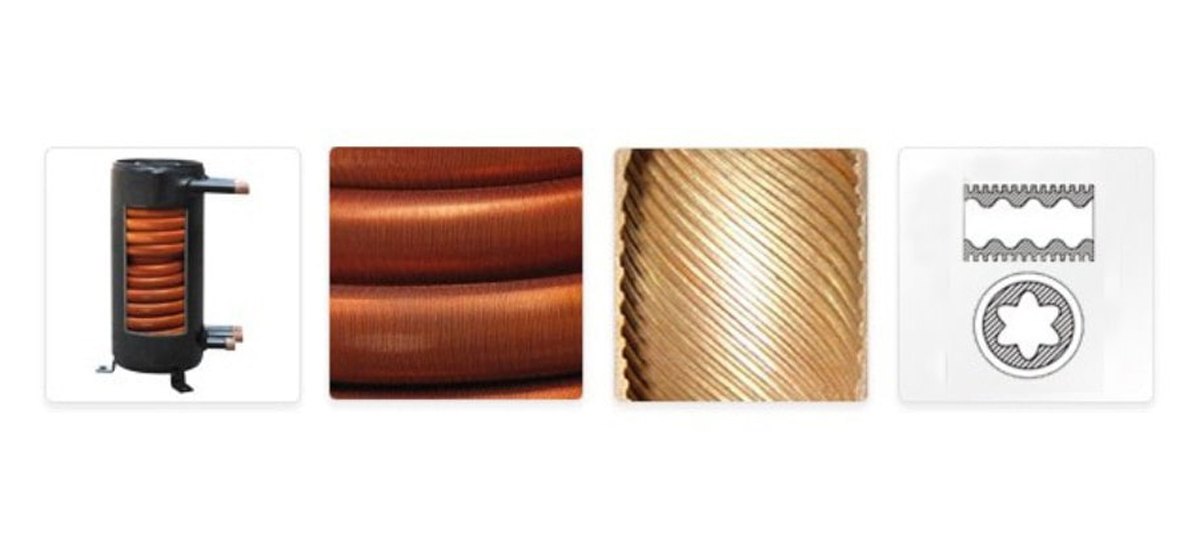 High Efficeint EEV Control
500-step linear electronic expansion valve control, wide adjustable refrigerant flow control range.
Automatic control of expansion valve opening according to the degree of superheat.
Automatic rapid track of balance control point according to changes of temperature ranges.
Automatic control of expansion valve opening according to the changes of ambient temperature load.
Special Design for Anti-freezing and Anti-frosting in the Bottom of Air Exchanger
With 2-layer separate design, top layer is for fan and evaporator, bottom layer is for compressor and heat exchanger, and block up slopes on 2 sides of button + anti-freezing element on the top layer + the use of special liquid distribution technology. When unit is working in heating mode, the temperature of refrigerant in the air exchanger's bottom copper tube will not decrease in order to ensure no frosting on it and smooth drainage.
Model
 
FHHD030S
FHHD050S
FHHD050S3
FHHD060S3
FHHD100S3
FHHD120S3
FHHD150S3
FHHD250S3
Rated water output
L/h
275
459
459
550
917
1101
1376
2201
Heating Condition: air DB 20℃/WB 15℃, water inlet:60℃, water outlet: 65℃
Heating capactiy①
KW
14.4
24.0
24.0
28.8
48.0
57.6
72.0
115.2
COP①A20/W60/65
W/W
2.60
2.60
2.60
2.60
2.60
2.60
2.60
2.60
Input power①
KW
5.54
9.23
9.23
11.08
18.46
22.15
27.69
44.31
Input current①
A
25.2
42.0
17.5
21.0
35.1
42.1
52.6
84.2
Heating condition: air DB 7℃/WB 6℃, water inlet:60℃, water outlet: 65℃
Heating capacity②
KW
11.4
19.0
19.0
22.8
38.0
46.0
57.0
95.0
COP②A7/W60/65
W/W
2.40
2.40
2.40
2.40
2.40
2.40
2.40
2.40
Input power②
KW
4.75
7.92
7.92
9.50
15.83
19.17
23.75
39.58
Input current②
A
21.6
36.0
15.0
18.0
30.1
36.4
45.1
75.2
Heating condition: air -7℃, water inlet:60℃, water outlet: 65℃
Heating capacity③
KW
9.6
16.0
16.0
19.2
32.0
38.4
48.0
80.0
COP③A-7/W60/65
W/W
2.25
2.25
2.25
2.25
2.25
2.25
2.25
2.25
Input power③
KW
4.27
7.11
7.11
8.53
14.22
17.07
21.33
35.56
Input current③
A
19.4
32.3
13.5
16.2
27.0
32.4
40.5
67.5
Heating condition: air -12℃, water inlet:60℃, water outlet: 65℃
Heating capacity④
KW
8.55
14.3
14.3
17.1
28.5
34.1
42.8
71.3
COP④ A-12/W60/65
W/W
2.05
2.05
2.05
2.05
2.05
2.05
2.05
2.05
Input power④
KW
4.17
6.95
6.95
8.34
13.90
16.63
20.85
34.76
Input power④
A
19.0
31.6
13.2
15.8
26.4
31.6
39.6
66.0
Power supply
V/PH/Hz
220/1/50
220/1/50
380/3/50
380/3/50
380/3/50
380/3/50
380/3/50
380/3/50
Max running current
A
37.8
62.9
26.3
31.6
52.6
63.1
78.9
126.2
Max water outlet temperature
℃
80
Noise
dB(A)
54
54
54
54
58
58
58
58
Water flow volume
m³/h
1.96
3.27
3.27
3.92
6.53
7.91
9.80
16.34
Refrigerant
 
R410A+R134a
Working ambient temperature range
-35℃~43℃
I wish to request a quotation.
CONTACT US

FANTASTIC ENERGY-SAVING EQUIPMENT CO., LTD.
We are always providing our customers with reliable products and considerate services.
If you would like to keep touch with us directly, please go to contact us
CONTACT US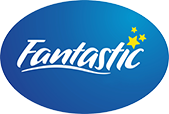 FANTASTIC ENERGY-SAVING EQUIPMENT CO., LTD.
We are always providing our customers with reliable products and considerate services.
If you would like to keep touch with us directly, please go to contact us