Air to Water EVI DC Inverter Heat Pump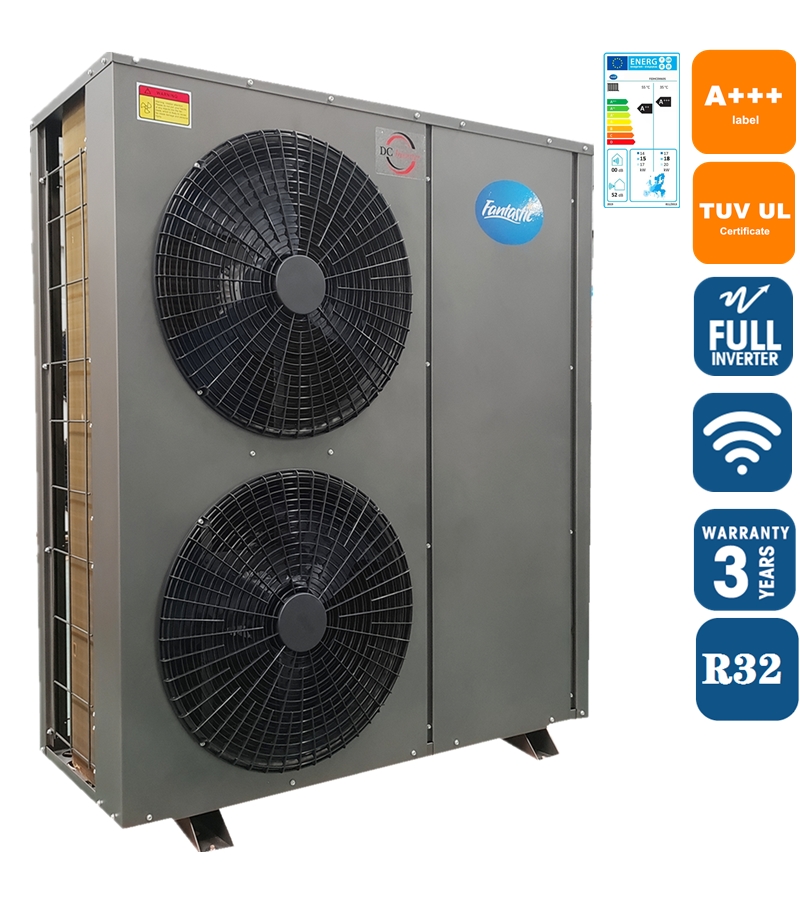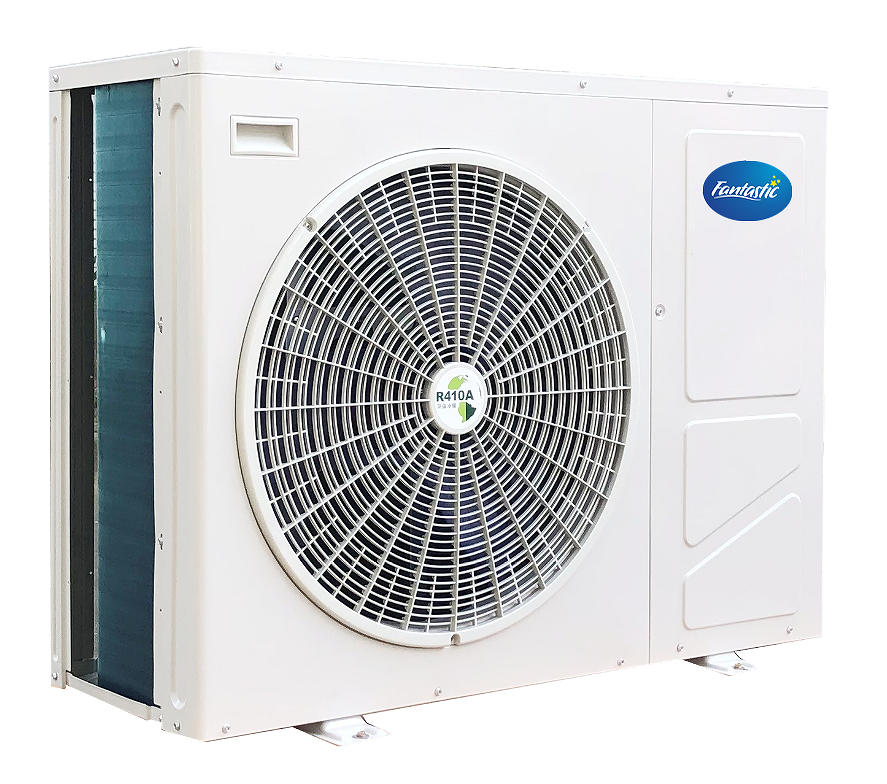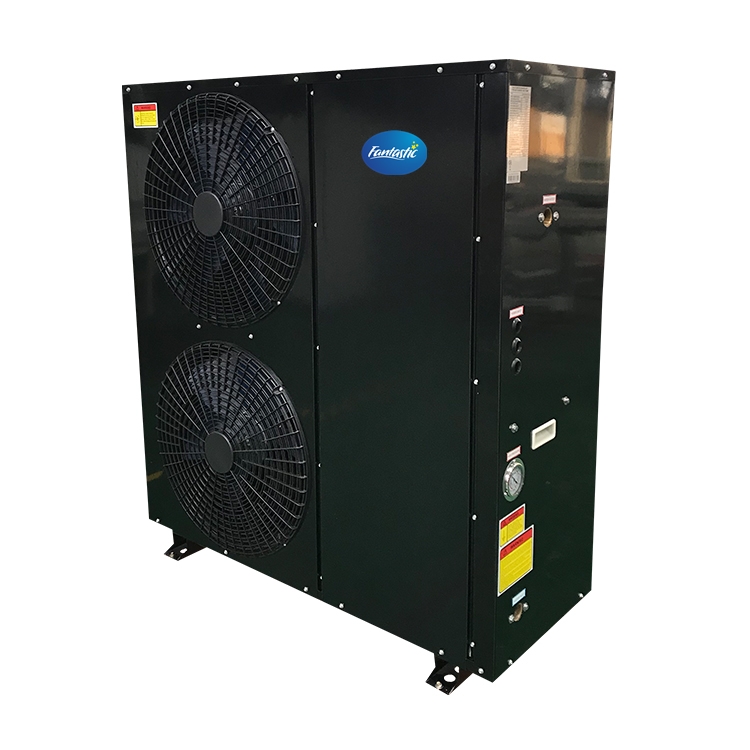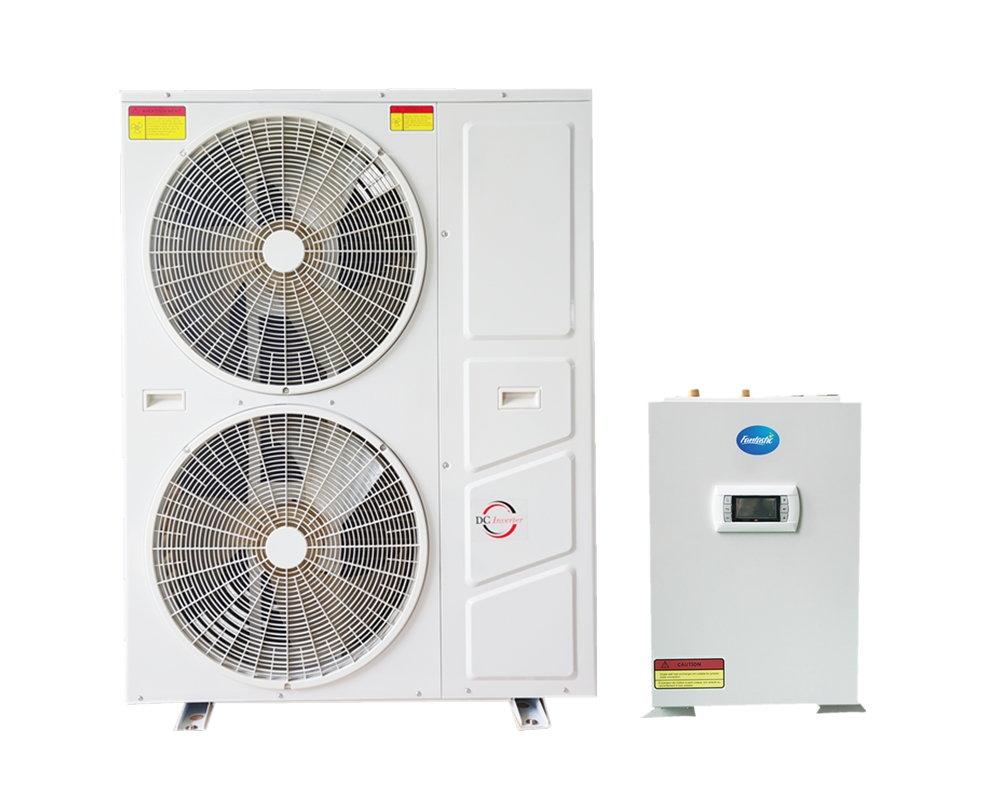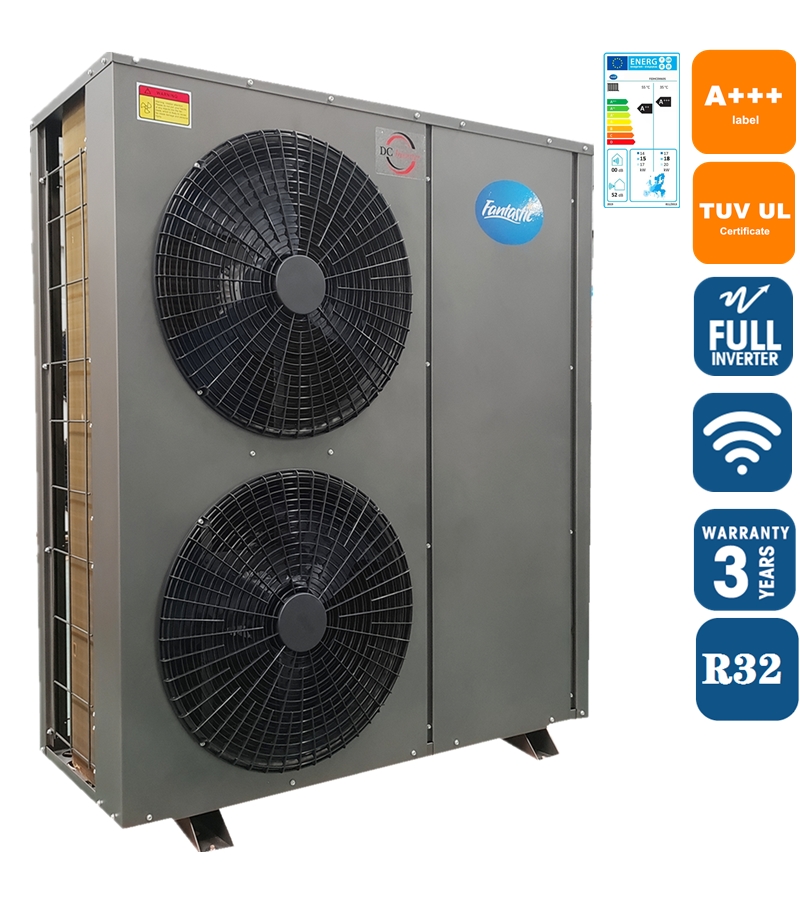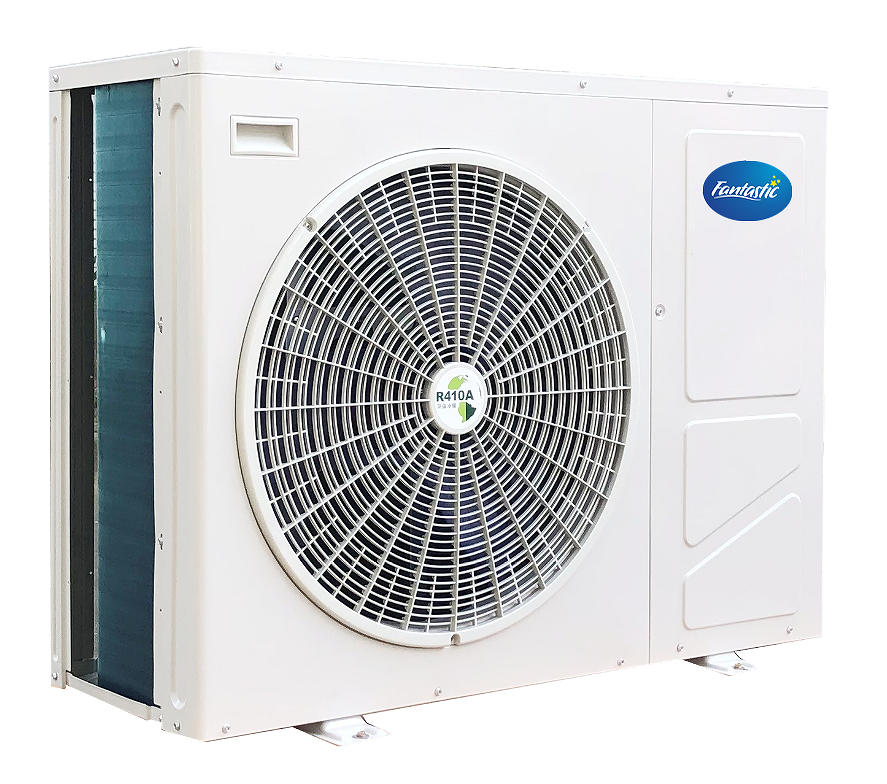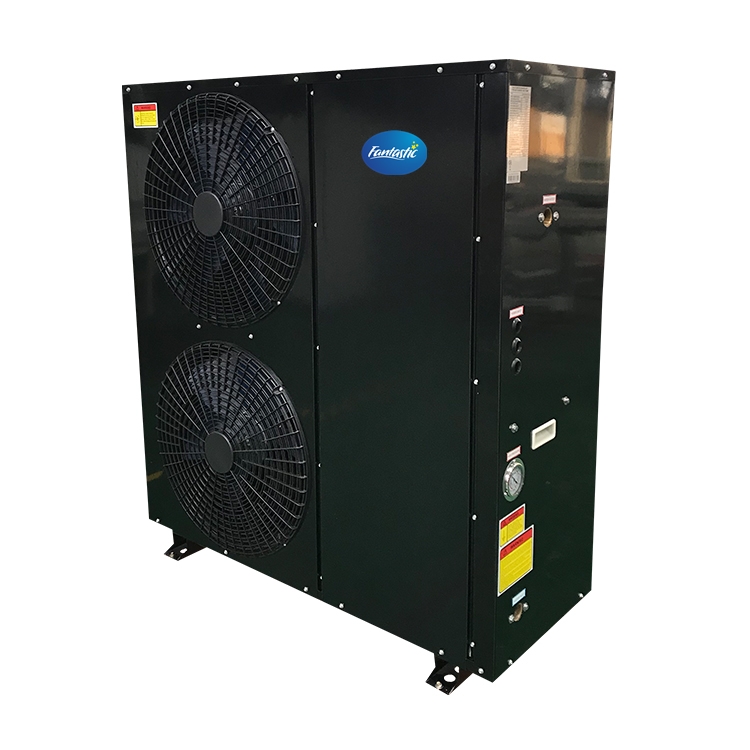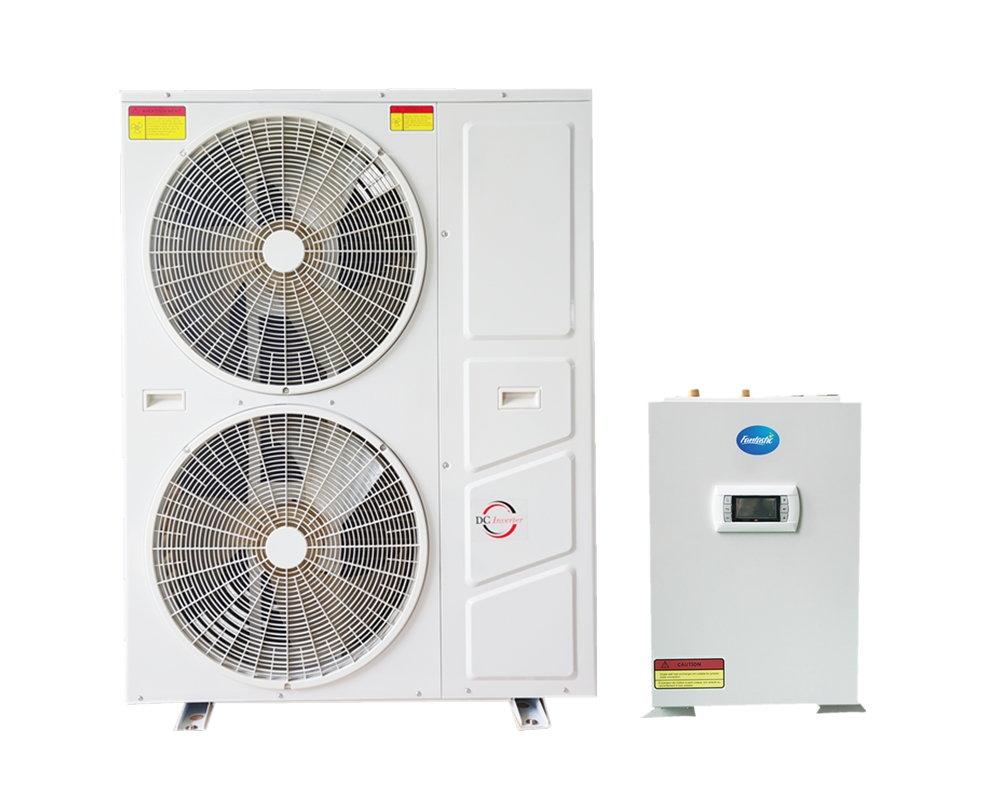 Main Features:
• R32 or R410a
• Monoblock type or Split type
• CAREL control for option
• Can work under - 35C ambient
• Function: Heating / Cooling / Domestic Hot Water
• 50% speed up heating time
• EVI DC inverter technology keep same good heating capacity from - 15c ambient
• Super Silent to 43 dB (A)
• Internet remote control
• Smart defrosting
• Energy-saving up to 30%
• Special design for anti-freezing and anti-frosting in the bottom of air exchanger

l Core Strengths
20 years experience with UL & A+++
FANTASTIC® company has manufactured and sold over 65,000 EVI DC inverter heat pumps worldwide and the EVI inverter heating heat pump certified with A+++ and CE,ROHS for Europe and UL for North American market
Stable operation under -35 ℃ ambient
FANTASTIC® EVI inverter heat pump with smart EVI inverter control way and EVI structure could work under ambient temperature range: -35 degree~43 degree
4-Core Full Inverter + Wifi Phone control
FANTASTIC® EVI inverter heat pump is full inverter heat pump ,not only with inverter compressor ,but also with inverter controller and DC fan motor, DC water pump, It's super perfect heat pump that all main components is the best quality, highest efficient, lowest noise.
Long life with famous brand high quality components
CAREL control for option- FANTASTIC® EVI inverter heat pump equipped with CAREL controller and CAREL expansion valve for option, Panasonic compressor, SHIBAURA inverter fan motor, and WILO water pump, SWEP plate heat exchanger ,and with element under button plate,and so on. All the heat pump with famous international brand components.
Super quiet
FANTASTIC® heat pumps using Inverter compressor , DC fan motor and owl fan blade, DC water pump,you can't hear it run from 10 feet away,virtually silent.
Save Money & High Performance
l
High Efficiency-ERP A+++ energy level and UL certificate by TUV
Targeting the European and North American markets , FANTASTIC has not only adopted R32 green gas and inverter EVI technology, and obtained the North American TUV UL certification, but also has been rated as A+++ energy label. With the highest energy rating in the European market, A+++, the unit is currently the most energy efficient and can significantly reduce customers' energy bills.The maximum COP is 5.65 and the SCOP is 4 88.of performance (COP). The high-efficiency DC variable frequency heat pump saves more than 30% energy than other air source heat pumps.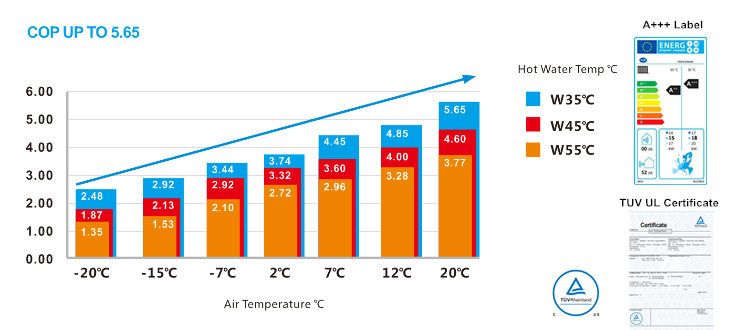 l
Smart Control and Famous Italian CAREL Control System Option
The intelligent controller with RS485 is used to realize the linkage control between the heat pump unit and the terminal application to improve the operation efficiency. Through the WIFI APP, users can operate their devices from their smartphones anytime and anywhere. You can also choose to use the famous Italian controller CAREL control system to control.

l
Stable Operation Under -35℃ Ambient Temperature
Wide working ambient temperature range: -25℃~43℃; Intelligent control, any weather available, automatic load adjust under different climate and environment to satisfy the demands of summer cooling, winter heating and hot water throughout the year.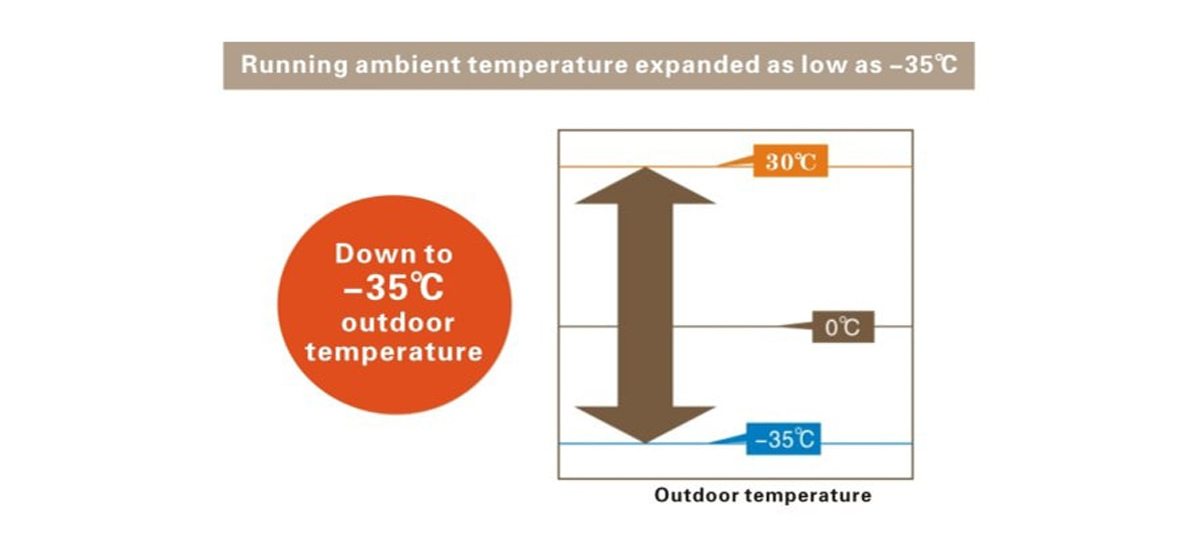 l
Super Efficient and Silent by 4-core Full Inverter Technolog
FANTASTIC EVI + DC Inverter heat pump adopts step-less inverter compressor, step-less inverter control system and brush-less fan motor and DC speed water pump. It can not only provide amazing energy saving, but also be as silent as a fridge, 12dB (A) lower than traditional On / Off heat pump.
l
50% Speed up Heating / Cooling Time
Once the heat pump is on, FANTASTIC Inverter unit can quickly pick and choose the best compressor and fan motor operating frequencies and the heat pump EEV opening automatically according to the heating or cooling demand by smart inverter control technology for the first time heating, inverter fast heating can save 50% heating time than traditional heat pump.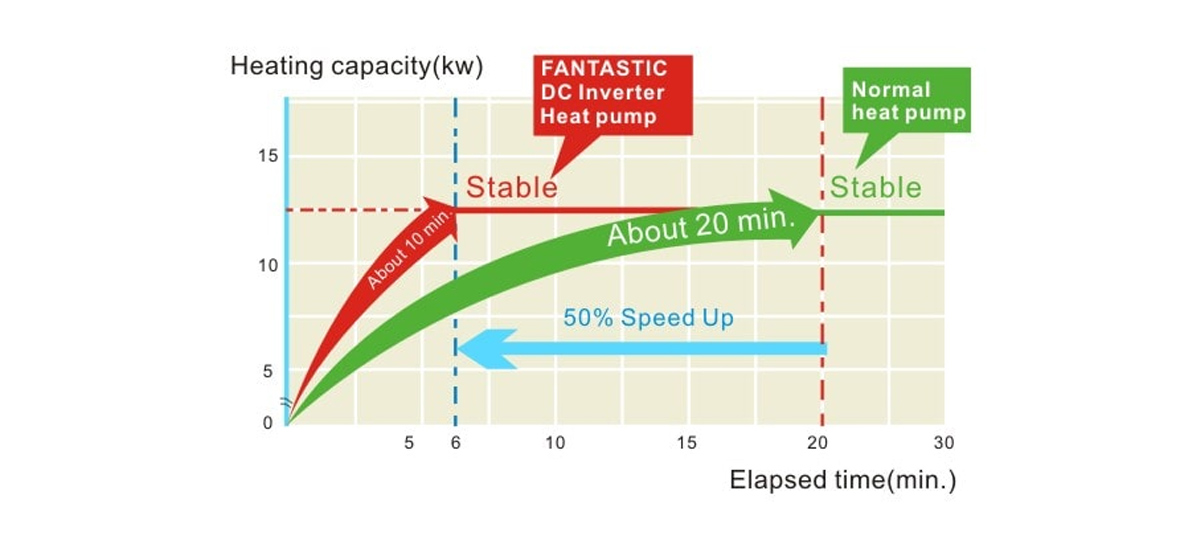 l
Superior Heating Ability
Thanks for FANTASTIC unique EVI + DC Inverter Technology which can control well the frequency and EEV according to the ambient temperature and water temperature and the refrigerant volume of major loop of refrigerant system, even when ambient temperature is under -15℃, heat pump can still maintain same rated good heating capacity output without any auxiliary electric heater.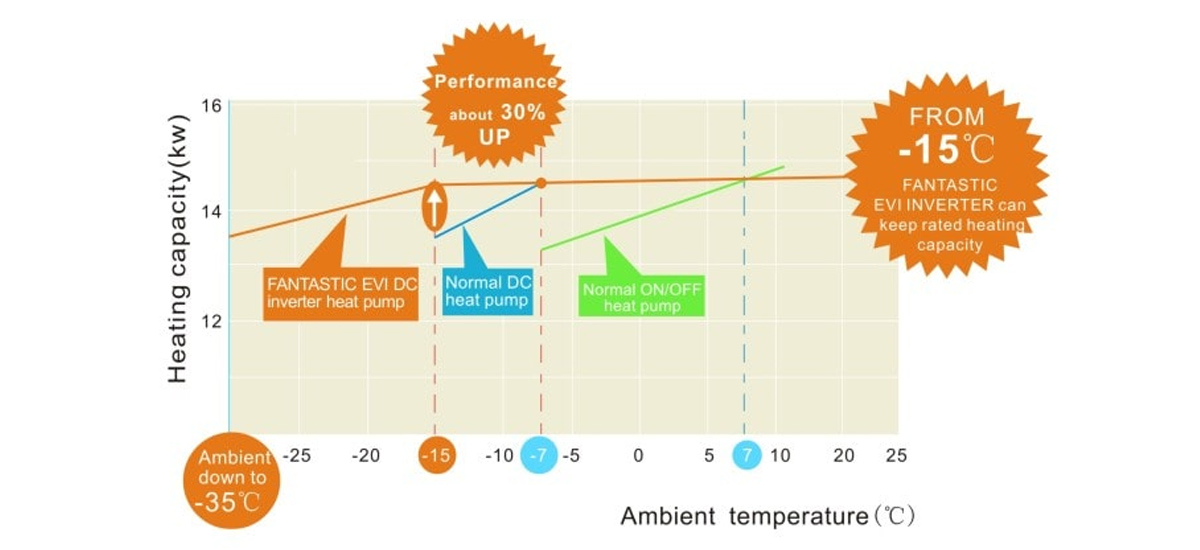 l
Quick Enter to Stable Status
The heat pump utilizes smart defrosting by controlling the frequency and EEV technology to enter the best defrosting status quickly, reduce the defrosting times and extend the effective heating time, fast recovery of water-supply temperature, improve heat pump heating efficiency and keep comfortable temperature.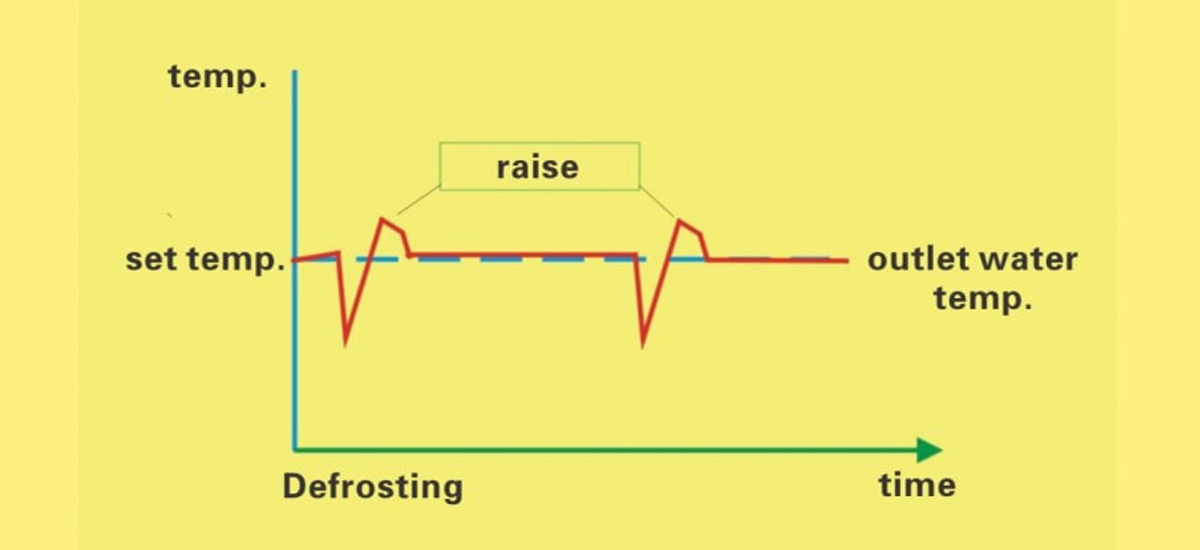 l
Special Design for Anti-Freezing and Anti-Frosting on the Bottom of Heat Exchanger
With block up slopes on 2 sides of button + anti-freezing element on the bottom of heat pump and the use of special liquid distribution technology, when unit works in heating mode, the temperature of refrigerant in the heat exchanger's bottom copper tubes will not decrease in order to ensure no frosting on it and smooth drainage.

l

Schematic System Diagram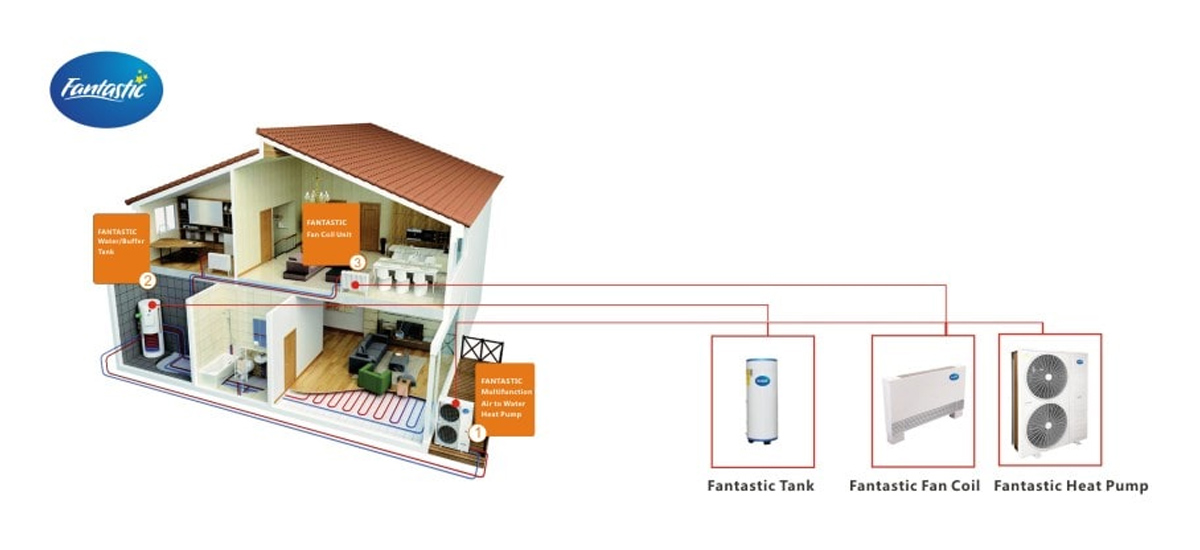 Monoblock Type EVI DC Air To Water Inverter Heat Pump
Model
 
FEIHCD035S
FEIHCD050S
FEIHCD060S
FEIHCD080S
FEIHCD080S3
FEIHCD100S3
FEIHCD120S3
Heating Condition: air DB 20℃/WB 15℃, water from 15℃ to 55℃
Heating capacity①
KW
10.5
17.5
21
28
28
35
42
Input power(Heating)①
KW
2.31
3.85
4.62
6.15
6.15
7.69
9.23
Input current(Heating)①
A
10.5
17.5
21.0
28.0
11.4
14.3
17.1
COP①
W/W
4.55
4.55
4.55
4.55
4.55
4.55
4.55
Heating condition: air DB 7℃/WB 6℃, water inlet: 40℃, water outlet: 45℃
Heating capacity②
KW
10.5
14.0
16.5
20.0
20.0
27
32.4
Input power(Heating)②
KW
3.25
4.18
5.00
6.20
6.20
8.18
9.84
Input current(Heating)②
A
14.8
19.0
22.7
28.2
11.5
15.2
18.2
COP②
W/W
3.23
3.35
3.30
3.23
3.23
3.3
3.29
Heating condition: air DB -12℃/WB -14℃, water outlet: 41℃
Heating capacity③
KW
6.5
9.5
11.5
14.5
16
20
24
Input power(Heating)③
KW
2.67
3.90
4.80
6.07
6.66
8.26
10
Input current(Heating)③
A
12.1
17.7
21.8
27.6
12.3
15.3
18.5
COP③
W/W
2.43
2.44
2.40
2.39
2.40
2.42
2.4
Cooling condition: air DB 35℃/--, water inlet: 12℃, water outlet: 7℃
Cooling capacity
KW
8
12.5
15
16
16
25
30
Input power(Cooling)
KW
3.00
4.70
5.80
6.00
6.00
9.96
11.90
Input current(Cooling)
A
13.6
21.4
26.4
27.3
11.1
18.5
22
Power supply
V/PH/Hz
220/1/50
220/1/50
220/1/50
220/1/50
380/3/50
380/3/50
380/3/50
Max running current
A
17.7
27.8
34.3
38
14.5
24
28.7
Noise
dB(A)
55
57
60
62
62
64
64
Water inlet/outlet
inch
1"
1"
1"
1"
1"
1-1/4"
1-1/4"
Water flow volume
m³/h
1.38
2.15
2.58
2.75
2.75
4.3
5.16
Refrigerant
 
R32/R410a
Working ambient temperature
-35°C~43°C
I wish to request a quotation.
CONTACT US

FANTASTIC ENERGY-SAVING EQUIPMENT CO., LTD.
We are always providing our customers with reliable products and considerate services.
If you would like to keep touch with us directly, please go to contact us
CONTACT US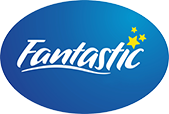 FANTASTIC ENERGY-SAVING EQUIPMENT CO., LTD.
We are always providing our customers with reliable products and considerate services.
If you would like to keep touch with us directly, please go to contact us